ABOUT US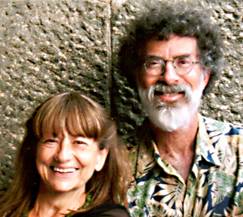 This work has been our companion for over 20 years. It has helped us make extraordinary discoveries and provided a rewarding way of working together. It made our lives more easy, more rich, more clear and kept us on this road–no matter where it went.
We have both come a long way–separately and together–having traveled the world; having learned from wise women and men; having lived in India for years (Sneh also in the USA and Italy in the spiritual communes of our Indian master, Osho); and having met other unique spiritual masters: Punja-ji and Sufi-Baba. And certainly having met other masters without ever recognizing them.
Good movies and murder-mystery books are hidden masters to us as well, and, always, life itself–especially and mostly everyday life. After all, our 28 years as a couple have proven to be a strong and powerful "medicine" about love and about how to succeed in the face of the seeming impossible.
Meeting Bert Hellinger and being introduced to the work that he developed–family constellations, movements of the soul and of the spirit–gave us a tool for sharing what we treasure. At the same time, it provided an exquisite opportunity to work side-by-side, as the couple that we are. Together, and yet independently, to do our work each in our own way.
And we are not alone in taking this path, but share it with many: dear friends, colleagues, trainees from many lands of this Earth. We share it with all for whom, at this moment, it is the right direction.
---
About Sneh
Born in 1947 and raised in Freiburg
• facilitator and long-term instructor (DGfS) of constellation work, founder of the School for the Path Less Traveled.
• Initiator and co-director of the conference series: Constellation Work and Spirituality (2004, 2006, 2008)
• Guest lecturer and trainer at institutes in Germany and abroad; lecturer at international conferences
• 2008—2016 member of the faculty of the annual "International Intensive" in Bernried. Germany
• Co-author: "Derselbe Wind läßt viel Drachen steigen" (The same wind causes many kites to rise), Carl-Auer-Systeme Verlag and "Returning to Membership in Earth Community: Systemic Constellations with Nature" (available via Amazon)
• Various articles in German and English journals
Education / Occupation
Studies: art and art history (Freiburg and Karlsruhe)
Former Occupation: seven years art teacher and student counselor in Freiburg
Further education: Counseling according to Rogers, TZI, Gestalt, Psychodrama, breath work / primal therapy (Siddha); NLP / and Ericksonian hypnosis (Dilts, Michaels and others); family constellations (Bert Hellinger); depth psychology (Hunter Beaumont); trauma work; Somatic Experiencing (Peter Levine, Steve Hoskinson, Raja Selvam)
Experiences that shaped my work:
• Participation in anti-authoritarian kindergartens and children's theater (Freiburg: Wallgraben Theater)
• Voluntary work in prison in Freiburg
• 1980—1990 learning and working in the presence of the Indian mystic Osho, India and the USA
• Three years living and working in the Osho meditation and therapy center Miasto, Tuscany, Italy
• Meeting with Uncle Les Kuloloio and the culture of Hawaii (Maui was second home for 2 years.)
• Workshops / trainings with other cultures and other countries, including with Native Americans on the
Colville Reservation of the Confederate Tribes, Washington State, USA
• Since 2006, learning about the teachings of the "Archetypes of the Soul" through workshops with Hasselmann and Schmolke, and since 2015, exploring and experiencing the "Michael Teachings" (via Shepherd Hoodwin and others)
"Apart from the fact that learning experiences like to hide in our normal everyday life, they tend to be mercilessly noticeable during my work with groups. Escaping, or "know it already!", does not work. Uncomfortable? Yes. Boring? Never.
Especially new information, just acquired as "secure knowledge" is prone to being pulled away from under my feet with regularity; and often the opposite of the logical proves correct, but without me being able to rely on it.
And, as time goes by, all my convictions about how life ought to work keep loosing their grip.
But what remains is that I keep stumbling on these breathtaking lookouts–showing the wonders of this life with all its beauty–that I can not help but want to share them with everyone and the entire world!"
---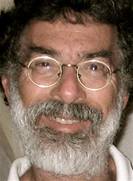 About Fredric
I was born during a hurricane in Brooklyn, New York City, in September of 1944. At the age of five, I graduated kindergarten top-of-the-class, and was voted "most-likely-to-succeed". For the next 25 years, however, nothing much happened. (We would say that "There was nothing to write home about.")
When I was 30 years old, I met the Indian mystic Osho. I then spent more than five years in India – in Bombay and Pune – in his ashram. I then spent the same amount of time in his commune in Oregon, often referred to as "The Ranch".
In 1987, in India, I met Sneh. Three months later, my train rolled into Freiburg's main station, I hopped off – and became a Freiboirger. The very first time that Sneh let me out of the house, I got lost: such crooked streets; so many clock-towers that look alike. But I did manage to get home (no cell-phones then!) – and this beautiful city has become and remains home.
In my short life, I have had many jobs: summer-camp counselor and division-head; college dormitory director; mathematics teacher; insurance salesman; assistant to computerizing/digitalizing a company; nude model for university art classes; carpet cleaner; ambulance driver; baby-sitter (one night); handyman; heavy-equipment (road-building equipment) operator; truck driver; construction worker; bus driver; tennis instructor; tofu maker; computer instructor; gardener – to name just a few. There are also some that should not be publicly admitted.
My best job, however, is my present one: working with and alongside my beloved and creative wife, as a seminar and conference organizer, since 1996. And the great advantage of this job? I now have tenure – and cannot be fired.
I do love what I am doing: organizing and advertising her work: the School for the Path Less Traveled. It is always "fresh" – mostly because Sneh keeps pulling the rug from underneath my feet.
I love speaking with people. Unfortunately, almost no one uses the phone these days; talking is now spelled t-y-p-i-n-g. But when people do call, and allow me to talk to them in English, not only am l very grateful but sometimes also quite moved. You guys are a lot more courageous than I am – and it is high-time that I give you my deepest respect. Thank you for supporting me to do the work as best I can – in the only language that makes any sense to me. Dutch? I can't possibly duplicate those noises. Swiss? They sound as though they are speaking and eating at the same time. French? Rien. Italian? You try conjugating their verbs. And German, in which a young girl is male? Go figure.
But in English, my cup runneth over – and I drink to you all: Prost.